What Others Say About Us
"I want to thank you once again for helping us with the inspection on our building... After three months of bids on the project, other contractors kept asking tons of money and still couldn't deliver.
I will recommend you to other managers for similar projects."
Tim, Vancouver
Certifications and Insurance
We are licensed rope access professionals with IRATA and SPRAT certification. Also, all our employees are registered and fully insured with WorkSafeBC.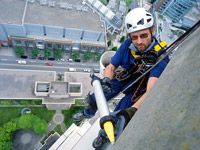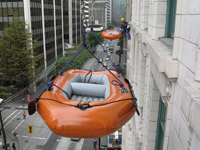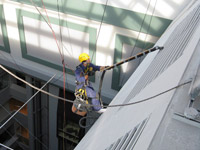 Rope Access Services
We specialize in a variety of rope access services. Rope access techniques are the most versatile and efficient way to reach any place on high structures and exposed vertical environments. Visit our rope access jobs gallery to see what we can do while hanging in the air.
Inspection
Visual and photographic inspection
Surface & near surface inspection
3rd party quality control inspection
Building envelope inspection
Maintenance
Painting
Sealant application
Leak repair
Window glass replacement
Anti-bird netting installation
Window vinyl seal replacement
Concrete repair/epoxy injection
Road safety netting
Systems Installation
Telecommunication systems
Weather station systems
Transceivers
Wind/Hydro systems
Cleaning
Window cleaning/washing
Pressure washing
Sandblasting
Rigging
Geotechnical services
Site investigation
Rock scaling
Stabilization of rock material
Confined space entry
Other rope access solutions
Christmas decoration
Banner and artwork installations